Payment via Web

Web payment
It is a Web credit card payment service which is connected to shopping sites and websites.
Introduction of web payment services will allow customers to make credit card payments on your shopping site or website.
You can easily introduce credit card settlement by connecting it according to SUI's specifications.
At present, the most popular and common payment method for online shopping is a credit card among bank transfer or cash-on delivery.
Credit card settlement service is a must for online shops.
Flow of web payment
Link-type
Link-type web payment service allows end users to make a card payment using SUI's payment screen.
※ There is no risk of information management since merchants do not obtain card information.
※ POST method is used to access SUI.
Advantages of web payment services
It is supported for 8 languages!
It automatically detects a preferred language of user's browser set up on their computers such as English, French, Japanese, Chinese, Spanish, Portuguese, German and Korean.
Customizable payment screen
You can select a design of payment screens from 14 kinds to suite the image of merchant's website.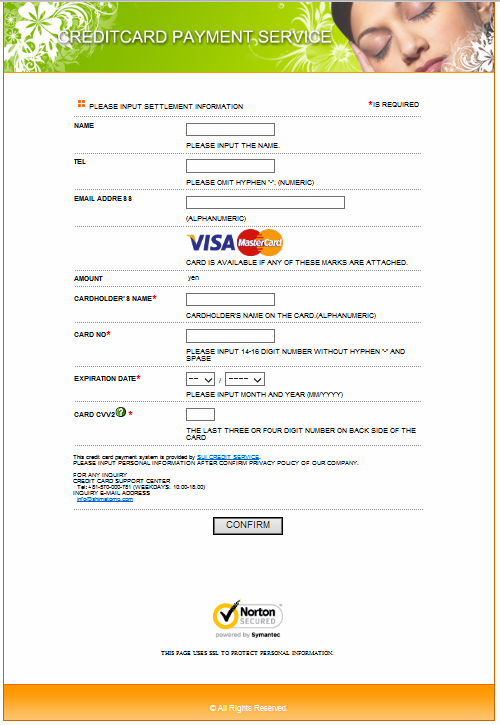 Multi-currency
Following currencies are available: Yen, US Dollar, Euro, Pound, Singapore dollar and Hong Kong Dollar.
Please feel free to contact us if you wish to use other currencies.
Auto-renewable subscription system
With SUI Credit Service's auto-renewable subscription system, you can freely setup auto-renewable subscription such as semi-monthly, monthly or 1st of each month. It is very convenient for monthly tuition and utility and subscription payments. You can also stop auto-renewable subscription immediately by yourself.
Customizable e-mail notification
You can freely customize the header and footer of "credit card payment completion email" which is opened by all customers who used credit card payments.
For example, you can add advertisement of recommended products in header to get repeated customers.
Restrictions for IP and email addresses
With SUI Credit Service's system, you can block certain IP addresses to be connected.
Website administers can assure safe operation by blocking IP and email addresses which have history of misuse.
Block fraud credit card
We provide a function to block credit cards with history of fraud transactions by using our payment database.
Free distribution of shopping cart modules
SUI developed open source modules for shopping carts and provide them to merchants at free of charge.
It works with major domestic shopping carts.
Following shopping carts are supported:
*zen cart
*EC-CUBE
*OS COMMERCE


Gateway type
With our card settlement method, a card settlement screen is organized by the merchant.
※ connection is made via SUI settlement system, however, it is invisible to customers.
※ HTTP method is used to access SUI.
※ Merchants are required to make a contract and introduce SSL communications .
Our credit card settlement services are ideal for following businesses and events.
*Online Stores
*Web contents
It is also available for many other industries.

Please feel free to contact us
Tel: 03-6667-0668  (In Japan) Tel:+81 3-6667-0668  (From overseas)